3 Steps to Prepare for Google's Continuous Local Search Updates
It's impossible to predict, without having a case study, whether or not taking the same $15,000-35,000 you spent on Angie's List, ValPak, local cable spots, radio and phone books and redirecting it to prepare your site for Google's Local Search changes would be a profitable decision.  However, based on the facts covered above and intuition from years of experience, the following should be part of every marketing program: Read "Google Moving In on Angie's List with New Local Search?" to learn about recent updates in Google's algorithms and beta testing they're doing for home service providers in California first.
1. Optimize your Website for Local Search.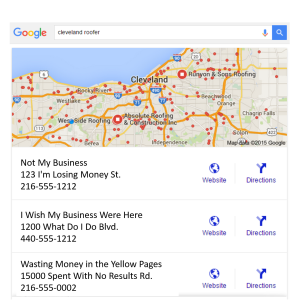 That means managing the slew of directory listings including GMB, Yahoo, Bing, Yelp, SuperPages, CitySearch and the over 50 others to make sure they all have the same NAP (that's Name, Address, Phone Number) listed on the website, are linking to your website and are optimized for the categories you wish to show up for in search results.  Local search optimization also includes adding local keywords, like the names of towns and cities you do business in, throughout your website and especially in headers and other areas heavily-weighted by search engines.  Either way you slice it, if Google's Home Service Ads never gets past beta testing in San Francisco, or if it takes over all local search results nationwide, your site needs to be showing up in the organic search results for local searches (area number 3 in both images above).
2. Optimize your Google My Business (GMB) Profile.
Google has provided you with a business listing.  You must claim it, optimize it with the categories you want to show up in, the areas you do business in and the same NAP information that's on your website.  If you're not doing this you are basically giving up on ever being in the local pack results and you're hurting your local organic search results.  It does take some time and there is a verification process as well as an account that needs to be created, but the time you spend to do it, or the money you pay for a local search marketing company to do it for you (it is included in all our online marketing programs) is minimal compared to losing out on local search results.
3. Start Budgeting for Google AdWords.
That may mean cutting back on Angie's List, Groupon, Gold Clipper, ValPak, YellowPages or some other marketing dollars you're currently spending. In order to compete for space in online searches, you have to take inventory: what are you spending on marketing, what is bringing results and what can be redirected towards a very strategic Google AdWords campaign.
Caution: Do not spend money on Google AdWords unless your website is in good shape!  I have met many small business owners who discredit the use of Google AdWords because they didn't get any results.  However, their websites were horrendous – broken links, outdated copy, no testimonials… your AdWords money is sending people to your website, or a landing page on your website, and if that landing page doesn't compel people to do business with you, it will be a waste of marketing dollars.
If you have any questions about how your business may be affected by local search changes, or would like to learn more about our online marketing services, contact us at Burning River Marketing or click here to order your no obligation website review.  We'll review your situation and recommend a solution that doesn't break the bank, but will get you found in online search results.