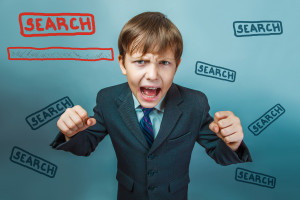 So you either spent hundreds of hours building your own website or you paid someone else good money for a website and you're not getting any business from the internet!  But why?  You have a website.  It looks better than many of your competitors, and it provides an excellent overview of the products and services you provide.
Chances Are, You're NOT Showing Up in Search (Google) Results
My guess is that your website isn't being returned by the search engines for the most relevant search phrases. And I'm not talking about the name of your business.  For example, if you own Mildred Dentistry in Elyria, of course you show up for Mildred Dentistry – there aren't any other websites competing for that term, but in order to get business from the internet you need to show up for phrases like "Dentist Elyria" "Dental Implants Avon" "best Lorain Dentist" and  "Cleveland Dental Center." So why isn't your site being returned by Google, Bing and Yahoo for these phrases?
This blog post will provide you with the basic understanding of organic search results and why your website may not be appearing on the first page of Google for the phrases you're targeting.  If you are a small business owner looking for answers about how to get your website on the first page of Google, this post should help steer you in the right direction. (Disclaimer: If you're an SEO expert, you will likely not learn anything new from this blog post.)
Website Review
When we perform a free web analysis we aren't looking at the graphics and design of your website as much as we're focusing on how you fare in Google searches.  We look at 6 of the most basic and important factors that impact your search engine placement. Although each search engines takes into account hundreds of factors (maybe thousands), and they have their own set of algorithms to determine which website to return for each search phrase, there are common factors across search engines we can look at. During our free web analysis we highlight these six:
1. The Age of your Domain
.
Remember the search engines are looking for the site with the most authority for the phrase that was searched and if your domain has been registered, crawled and has links coming to it for a longer period of time than your competitors, your website will appear to the search engines as more of an authority than competitors that are just getting started.  However, spending top dollar for an "aged" website domain is rarely worth the expense because although the age of a domain is considered, other factors are more important.  For more details watch this Google Webmasters video "How does Google determine domain age, and is it important for ranking?".
2. Number of Pages on your Website.
The top, number one, most important factor search engines look at is content (amount of text, relevant words and number of pages) which is why typically search engines consider the number of pages and the amount of content you have on your website as an indication of more authority on the subject. However if a website has hundreds of pages with very little content search engines are likely to take into consideration that the pages with very little content do not represent much authority on the subject matter. For example if a competitor creates 22 pages about cosmetic dentistry but on each website page there is merely a picture, a video or two sentences about teeth whitening, the search engines will not give much weight to those pages because the content is lacking. The best strategy to ranking for your keyword phrases is to have pages and pages of rich content about those phrases – it's as simple as that.
3. Number of Links
.
The number of outbound links is less relevant than the number of inbound links. An outbound link is when you link your website to another website. For example if you're a dentist and a member of the Rocky River Chamber of Commerce, providing a link to the Rocky River Chamber of Commerce on your website is considered an outbound link. A more powerful link is an inbound link i.e. the website for the Rocky River Chamber of Commerce provides a link to your website. When your website is listed with a number of associations that are relevant to your business, as well as local directories, the number of inbound links will grow which shows search engines that you are relevant to your subject matter as well as to the location that you are targeting. Be careful not to generate links to your website just for the sake of generating links.  There are a number of inexpensive "link-building services" that use spammy sites to link to yours and search engines have penalized websites with poor quality inbound links. You want relevant links that pertain to either your industry or your location and are legitimate websites rather than sites that could be considered poor quality by the search engines.
4. Structure of your Website.
This category could be broken into hundreds of sub-categories but in an effort to keep it simple, search engines want you to tell them what content is most important on your site. They have provided guidelines to follow that recommend you use bits of code to identify the most important headers (h1), second most important (h2) and so on with h tags from h1 to h6. In order to optimize your website for search engines you would want your most important keyword, i.e. Elyria Dentist, to be an h1, or a title tag, on the home page.  Each page should be structured with appropriate, keyword-rich h tags, page titles and meta descriptions.
Although there are a number of important factors in your site structure during a web analysis we focus on the most basic which includes ensuring each page has a keyword rich URL, reviewing each page for a unique page title, unique meta description, and the use of h tags throughout your websites to show search engines which content is most important. When this structure is not implemented properly it's possible for a website to have relevant content that is not picked up by search engines and therefore search engines are overlooking the site for your targeted keywords.
5. HTML to Content Ratio.
If you do NOTHING else when optimizing your site for search engines CREATE CONTENT!  It has continuously been important for all search engines to index keyword rich targeted content on your website. The phrase many industry professionals use as a mantra is "content is king." Remember the objective is to show search engines that your site is the authority on the phrase that has been searched. In our example above, the phrase was Elyria Dentist. If your website does not have content, or text, that speak to the phrase Elyria dentist, your website will not be considered the authority. In contrast if your website has multiple pages discussing the phrase Elyria dentist, with that targeted phrase being used as page titles and headers, your page will be considered an authority. 
6. Social Media
Let's say you're a lawyer, roofer, plumber or dentist and you may not think people will follow you on Twitter or read your blog post or like your company on Facebook but that's no reason not to engage in social media. Social media provides much more benefit to getting your website found on search engines when done correctly. It also allows your friends, family, and other followers to know what's going on with your business. The search engines see those links to your website and notice the activity.
Bing's Webmaster Guidelines specifically address the impact social media influence has on your search results when they write:
"Social media plays a role in today's effort to rank well in search results.  The most obvious part it plays is via influence.  If you are influential socially, this leads to your followers sharing your information widely, which in turn results in Bing seeing these positive signals.  These positive signals can have an impact on how you rank organically in the long run."
Social media can also be a great tool for recruiting and for converting potential customers into actual customers. Think about your own consumer decisions. If you are looking for someone that's a credible, honest, and responsible company in the Cleveland area and you come across a website with links to social media accounts typically you will click on the social media link to see if this company is continuously updating their social media accounts or if they have them at one time and let them go dormant. Having regular activity shows not only the people that might work for your company, but also the people that might choose your company over a competitor, that you are in the routine of continuously updating customers, followers, and the general public about your business. And remember that just because the number of likes on your Facebook page doesn't increase, or the number of followers to your Twitter account doesn't grow, it doesn't necessarily mean that your content isn't being viewed and isn't being picked up by search engines – it could mean that people are viewing posts and contacting your company without necessarily following or liking.
At Burning River Marketing we provide your company a free web and SEO analysis to see how you fare in these six categories against your competitors, and ultimately why your website isn't showing up in search results for your most relevant keywords to attract more internet business. Fill out our free web analysis form, let us know who your competitors are, what search phrases  you would like to be ranking for and our web analysis will let you know how to improve your standing with the search engines.